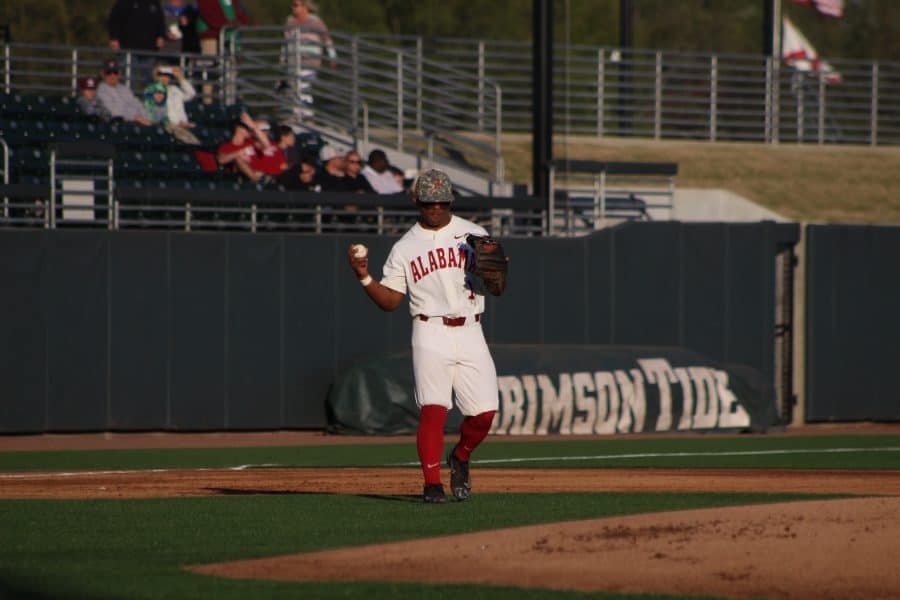 Alabama picked up its second SEC series win on Saturday after splitting its double header against Missouri. The Crimson Tide lost in game one's pitcher's duel 1-0, but came back to win 5-1 in the second game.
"Overall, I'm excited to have won consecutive SEC series against ranked teams," Alabama coach Brad Bohannon said in a press release. "Now, we have to carry that momentum into our midweek game on Tuesday." 
In game one, Alabama starter Jake Walters and Missouri starter Michael Plassmeyer were fantastic. Each allowed just four hits throughout their start. Plassmeyer went the distance shutting out Alabama. He allowed just four base runners, while striking out seven Alabama hitters.
Walters was almost as good. He went 6 1/3 innings, striking out a season high 12 batters. He struck out the first eight batters of the game.
The only run of the game was unearned. Missouri's right fielder Trey Harris started the inning by getting to second on an error by Alabama center fielder Joe Breaux. Harris moved to third by a sacrifice bunt, and scored on a sac fly.  
 "It was a tough loss for us in game one," Bohannon said. "(Michael) Plassmeyer was outstanding, and Jake (Walters) matched him for a good part of the game. Credit Missouri for taking advantage of our mistakes in the eighth to get the run they needed for the win." 
Alabama came back strong in game two. Alabama jumped ahead 3-0 in the third inning. With bases loaded Breaux singled to short, driving in the first run of the game. Chandler Avant followed with a sacrifice fly for the second run. Cobie Vance scored the third run off a throwing error by the Missouri catcher. 
The Crimson Tide added a pair of insurance runs in the ninth, after Kyle Kaufman doubled in Keith Holcombe. Vance, who was the next batter in the order, singled in Kaufman for the game's final run. 
Kyle Cameron picked up the win. He threw five innings out of the bullpen, which was is a career high, and allowed only one run. He also struck out three. Deacon Medders finished with his sixth save of the year, which leads the team.
"I'm really proud of the way our guys bounced back in game two," Bohannon added. "We strung together some hits early and added insurance runs late to get the win. (Garret) Rukes, (Kyle) Cameron, (Brock) Guffey and (Deacon) Medders all competed really well and did a good job of keeping the Missouri offense from getting anything going." 
Alabama faces UAB on Tuesday at 6 p.m.