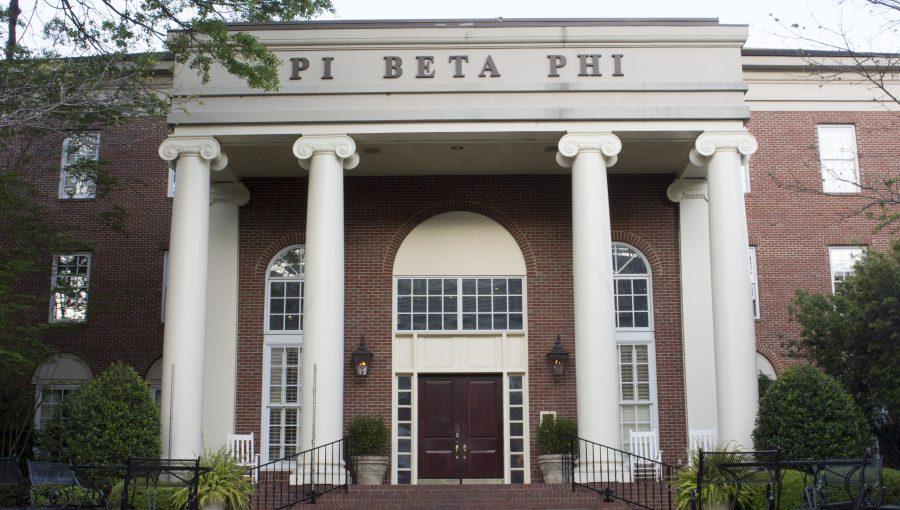 Ashley Taube was two years cancer-free. Her doctors had performed a risky procedure on the high school math teacher in 2012, removing a tumor from her pancreas, and they were confident they had eliminated the disease. Tests and scans looked optimistic as well. Taube and her husband welcomed a second son in the world, ready to put their struggle behind them. But last December, she got the worst news imaginable: the cancer was back, and it was inoperable. The disease would be manageable, but she would be fighting for the rest of her life.
Luckily, Taube had friends in Pi Phi. Sisters she knew from her time at The University of Alabama chapter of the organization got together to help her through her crisis. They visited Taube over the holidays, helped her emotionally during her diagnosis, gave her hundreds of dollars in gift cards and assisted her in paying for flights to visit her specialist. Some of her sisters even set up a GoFundMe account for Taube and raised $20,000.
"I feel like with my sorority sisters, I never had to ask with anything," Taube said. "They just kind of knew what I needed and just did it, and they don't take no for an answer. My husband calls them 'The Pi Phi Mafia.' They just kind of swoop in and take care of things."
In 2012, the teacher experienced her first fight with neuroendocrine cancer. During a family walk, she felt an itch all over her body that neither she nor her doctors could explain. Eventually, after blood work, physicians discovered the nature of her illness – a cancerous tumor on her pancreas and in one of her lymph nodes.
Her sisters helped her during her first bout with the disease, but at first, Taube was resistant.
"She was just confident that it would be one and done, that she would not have to worry about it again," said Tascha Davis, a friend and Pi Phi sister Taube met at the University in 1999.
But during her more recent struggle, she's been open to the assistance, and said she was lucky for the support of her family, her community and her sisters.
"The amount of love and support and understanding that they give us … it's helped us financially for sure, but it's helped our mentality and our spirit," she said.
In addition to direct financial support, her sisters also helped her take care of her kids, sent her encouraging books to help her emotionally, and told everyone they knew to pray for her.
"Of course, just praying for her. I think half of Birmingham, she's on their prayer list," Davis said. "I know all of her friends from all over the country are also praying for her and hoping she can live as long as she possibly can with the cancer."
Her sisters are happy to help, but the fact that their friend is going through a struggle is hard for them.
"I think it's more bittersweet than anything knowing that our friend has had to go through this. It's really challenging for us," Davis said. "Anytime someone your age with kids who are young has something like this happen, it hits really close to home. It's rewarding that she's accepting help and that we're able to help her, but also, it doesn't feel that great because she needs it, and I'd rather her not be in a place where she needs it."
To Taube, the most difficult part of adjusting to her diagnosis was the concept of "forever." Doctors say the disease is treatable, and that Taube could live for a long time, but she will still have neuroendocrine cancer for the rest of her life. The teacher also described an initial phase of disbelief when doctors told her of the disease.
"As naive as it is, I kind of felt like I was immune to being super ill, because I'm a pretty healthy person," she said. "I like to exercise, I don't eat terribly, I'm active, I don't have a lot family history of challenging illnesses or anything like that. So I just kind of didn't feel like that was something that would happen to me. And it did."
But the teacher described herself as optimistic about her future. There's also no end in sight for the support of her friends.
"It's just a hard thing to swallow, and it's not something that I want to deal with forever," Taube said. "But, what else do you do? I'm gonna fight it. I have two boys that are young and need their mom."
Editor's Note: In the original version of this article, a quote read "It's rewarding that she's expecting help." This was an incorrect transcription and was changed to "It's rewarding that she's accepting help." The Crimson White regrets the error.