Band members selected for Disneyland Resort band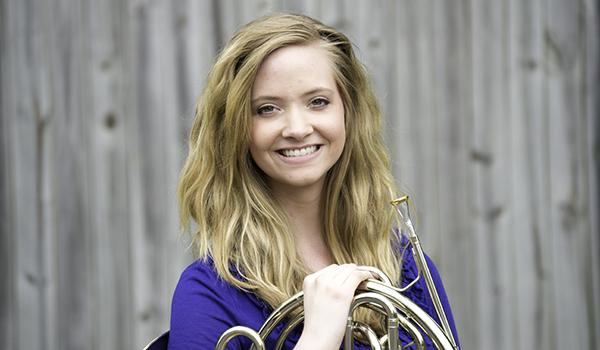 It's a small world after all. Two students at The University of Alabama have been selected to perform in the Disneyland Resort All-American College Band, a tradition since 1971 that offers collegiate musicians the chance to learn and perform with celebrated artists at "The Happiest Place on Earth."

Associate Professor Christopher Kozak is the director of the jazz studies program at the University and said he is well acquainted with the director of the Disney All-American College Band program, Ron McCurdy. Kozak informs students of the opportunity and sends them along to McCurdy in hopes that a few more UA musicians will join the band.
"[Disney All-American College Band] really introduces students to the professional world and the entertainment industry," Kozak said. "It teaches 
students life skills as professional 
musicians and entertainers."
Ben Carrasquillo, a senior majoring in jazz studies, and Madelyn Cook, a 
first-year graduate student, will be 
playing in this year's band. Carrasquillo is one out of the four trombones and Cook is one of the two French horn 
players. The 21-piece band will be 
 performing for 11 weeks at the Disneyland Resort and will get the opportunity to clinic with 
professionals in their field and explore the 
surrounding Hollywood area.
Carrasquillo began playing the 
trombone 10 years ago, while Cook started her French horn career at age 10. Both musicians said they were drawn to The University of Alabama's music 
department because of its professors.
Carrasquillo spent the last four years at the University perfecting his classical and jazz playing so he can make himself competitive for grad school auditions and opportunities such as the Disney All-American College Band.
Carrasquillo's sister, Briana, was a member of the band in 2011 as a saxophone player, and was supportive of her brother's efforts. After not making the cut for the previous year, Carrasquillo said he focused a lot more heavily on his jazz playing and used the things McCurdy told him to work on for the next year's audition.
"I think [McCurdy] saw a growth from where I was last year to where I am this year, both in my playing and how I carry myself as a professional musician," Carrasquillo said, concerning his success for this year's audition. "I think he likes to see someone who is willing to work and has the potential for growth."
Cook wanted to audition for the Disneyland Resort All-American College Band since sophomore year of her undergraduate studies, but the stars did not align until this past summer. After seeing videos of band performances, Cook said she was ready to audition and submitted a video for the first round.
"I thought, 'Well, I have this summer open and anyone would be stupid not to do it,'" she said.
After Carrasquillo and Cook moved past the first round of video auditions, they were called back for live auditions with McCurdy and other previous band members. Both performed the pieces they sent in and answered questions McCurdy had for them. Cook was asked to dance during her audition and Carrasquillo had to sing for the judges because he put that he had vocal 
experience on his résumé. Carrasquillo and Cook both agreed that performing in the Disneyland Resort All-American College Band is going to be an opportunity that they are sure to treasure forever.
"I think it's the kind of experience that you look back on 20 years from now and say, 'Wow, that was one of the best 
summers of my whole life,'" Cook said.
With thousands upon thousands of tourists entering the Disneyland Resort theme parks, Carrasquillo, Cook and the rest of the band will have massive 
exposure doing what they love.
"Literally millions of people will see this group perform and hopefully bring joy to the people over the course of the summer," Carrasquillo said.
Along with having fun in the parks and learning from the best in their musical fields, Carrasquillo and Cook will be able to network and form bonds that will help them throughout their musical careers, Kozak said.
"It's no coincidence that people who were in [Disneyland Resort All-American College Band] are doing well," Carrasquillo said. "People that are in it do well no matter what the situation is."
Cook had one last positive note on the challenging rehearsal process and 
summer of performing in the parks.
"It's going to be great cardio," 
she said.