Opera theatre performs classic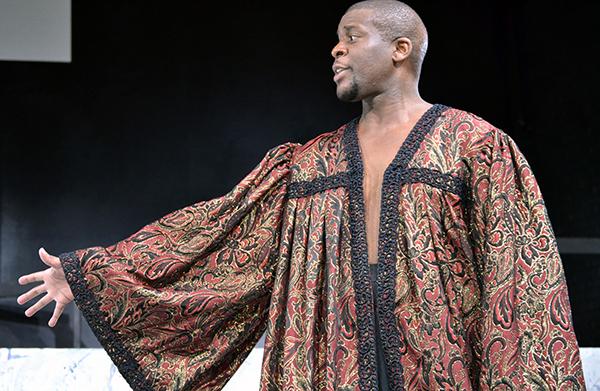 Music by Mozart and Italian libretto, or text, by Lorenzo Da Ponte intertwine to form "Don Giovanni," an opera based on the fictional tales of seducer and libertine, Don Juan.
The University of Alabama Opera Theatre brought the popular opera to Bryant-Jordan Hall for an opening performance Wednesday. Additional sold-out performances will be held Friday at 7 p.m. and Sunday at 3 p.m.
Paul Houghtaling, an associate professor of voice and the director of UA Opera Theatre, said revenge is a theme in the opera but the story of "Don Giovanni" provides other valuable teachings.
"There are great lessons to be learned in the story about loyalty, faithfulness, love and forgiveness," he said. "I think those four traits are certainly what anybody – whether they're a student or a seasoned opera lover – can understand from 'Don Giovanni.'"
Students received their scripts and began preparation over Christmas break, and began rehearsals Jan. 12.
"The most fun has definitely been this week of tech rehearsals," said Kadi Ellis, a senior majoring in theatre and a member of the ensemble. "Finally getting to see the costumes, the makeup, the set, the lights and getting to put everything together has been an amazing experience."
Including the Huxford Symphony Orchestra, roughly 100 people have helped bring the show together.
Nicholas Aguirre, a first-year graduate student majoring in vocal performance, is one of the three baritones portraying the titular role. Aguirre will be performing as Don Giovanni in Sunday's show.
"Our opera program is truly like a professional program," Aguirre said. "The UA Opera Theatre runs as a professional house. It's a great experience for everyone involved just to be able to have a role in a major opera in a major production."
Ellis said the finale of Act 2 is her favorite to perform. The dramatic finale of the opera includes all of the women Don Giovanni has scorned in the past dressed in wigs, costumes and striking makeup.
The music is heightened at this point, creating an amazing spectacle, Ellis said. Aguirre said he agrees the music at this point enhances the scene.
"When the Commendatore comes in during the Act 2 finale, the music is really intense and beautiful and very thrilling at the same time," he said. "I think that would be my favorite scene."
Though Don Giovanni will be performed in Italian, supertitles will be available above the stage. Ellis and Aguirre said the audience will understand the story and connect to the characters through the moving music 
and lyrics.
"It's quite a spectacle, quite a journey. It's all of that with students," Houghtaling said. "Everything we do in this program is entirely about what will be invaluable 
to them."
Houghtaling said he strives to challenge his students creatively, while providing learning experiences that both students are involved and invested in, he said.
"And that's what opera's all about," he said. "And that's what our mission is at the University of Alabama Opera 
Theatre."
Laura Testino contributed quotes to this story.