Men's tennis loses SEC opener, sweeps Sunday doubleheader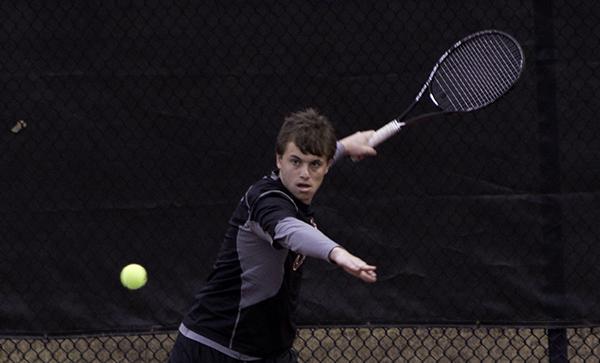 Having played Mississippi State at the Blue Gray National Tennis Classic last weekend, the Crimson Tide hoped to have a better outcome than it did at the tournament, where it fell 4-3.
It didn't, losing once again to the Bulldogs, 4-0.
The score against Mississippi State was deceptive, however, since the men didn't go down without a fight, with many of the single matches being decided in a tiebreaker.
Sunday was a better day for the team. The Crimson Tide defeated both teams in its doubleheader, winning all four matches against Jackson State 4-0 and taking down Jacksonville State in its two matches 4-0 and 5-0.
"I think they played a lot more aggressively," coach George Husack said. "They played with less fear. I think at the end of the day, they went for all their shots. It was a great day."
Friday's match was spent indoors due to the weather. Sunday was a different story, though. The match against Jackson State was played entirely outside, while Jacksonville State started outside but was soon moved indoors due to rain.
"That's going to bring out a little more of the physicality," Husack said. "I think we're in great shape. I look forward to more of the outdoor season."
Freshman Korey Lovett said he enjoyed being able to play outdoors. Lovett was one of the players who had his singles match suspended then moved indoors as the rain started against Jacksonville State.
"I like it a lot more, honestly," he said. "It's just better tennis, kind of keeps all of the elements in the end."
The doubleheader kept the players busy all Sunday. Because the team would have been playing so many matches in one day, it ended up playing a different format. It played Jackson State four times and Jacksonville State twice for six team wins. There was no doubles play.
"[Sunday] was good to get back on the winning track," freshman Danny Kerznerman said. "It's been a while, so I thought everyone did very well."
The Crimson Tide was able to overcome its loss on Friday and bounce back Sunday.
"We just outplayed and outcompeted them," Kerznerman said.