Perfect in Pink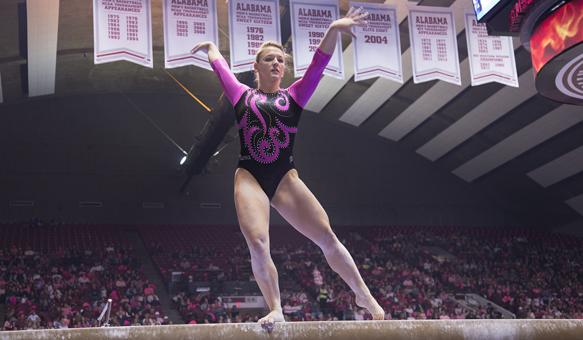 On the famously unlucky evening, Alabama gymnastics followed several personal-best and two team-best apparatus scores to beat Boise State 197.8-195.45 in a meet that honored longtime coaches Sarah and David Patterson, the Power of Pink and gymnastics alumni. It was the 13th best score in school history.
"I asked the ladies, I was like, 'How would you describe tonight?'" coach Dana Duckworth said. "I mean, it was electric. And it was a fight. What an amazing crowd, 85 alumni here honoring Sarah and David – it was just electric."
The team posted season-best scores on both bars and balance beam and tied its season-best score on the floor exercise. The team's overall total of 197.8 topped its previous season best of 197.4.
"Our ladies did what we practiced all week," Duckworth said. "We tried to focus on having better landings, hitting more handstands, being aggressive and having a better performance and increasing difficulty and we did all of those things. [I'm] very proud of how the ladies just fought for every tenth, and we really just had a great time doing it."
Lauren Beers and Katie Bailey, who placed first and second in the all-around competition respectively, paced the team with a pair of personal bests apiece. Beers posted her career-best score on beam with a 9.95 and on bars with a 9.925. Bailey posted her career bests on vault with a 9.925 and on bars with a 9.95. Hunter Dennis posted her season best on floor with a 9.9.
"I would say tonight we went out there and we hit a lot more landings than we have the past few weeks, but there's still more that we could hit," Beers said. "A couple of us stepped on vault. We should all be sticking our vaults. I know for me on floor, my first pass was a little wonky. The other two passes were good and everyone else did well. Just continuing to work on the little things – handstands, sticks, performance aspects – but I think we're coming along very well."
Following the introduction of alumni before the meet, gymnasts escorted cancer survivors during their introductions to honor the Power of Pink cause and presented a check for $109,000 to the DCH Breast Cancer Fund.
Throughout the meet, the Pattersons were honored for their successes with both the cancer awareness initiative and their contributions to the Alabama gymnastics program after it was announced they would both be inducted into the Alabama gymnastics hall of fame. David received the Sarah Patterson Distinguished Alumni Award, which came as a surprise to the former coach.
"It could not be given to a more deserving human being," Duckworth said. "David is an amazing person. He is such an integral part of why our program became what it became. He deserved it."
Bailey said special honors and initiatives were simply an incentive to perform to a higher standard and bring an added energy to the floor.
"We didn't compete for ourselves at all," she said. "We had the alumni we were competing for, to carry on the legacy and prove that we are protecting their legacy that they laid down for us. Competing for Sarah and David, showing them that we're still protecting that legacy and then also for the Power of Pink, it's just not selfish at all. Just competing for someone else rather than ourselves was a great thing to be a part of."
Next week, Alabama will travel to Athens, Georgia, where it will compete against long-time rival Georgia at 7 p.m. ET.