Gymnastics defeats Auburn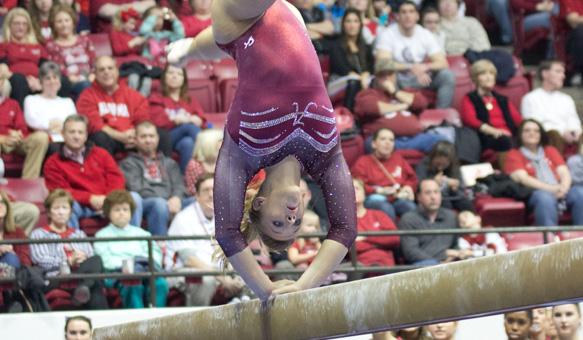 Though the Crimson Tide came out on top, its in-state rival didn't go down without a fight. After three rotations, Alabama led 147.875-147.800 before a strong floor performance continued the life of the storied streak. The team tied its best performance on beam and floor and bettered its season best 
on floor.
Coach Dana Duckworth said the rivalry meet was a mental test for her team members, who had to train through the difficult demands of being student-athletes and deal with changes in lineup due to illnesses.
"Mental toughness – that was the name of the game this evening," she said. "We had an interesting week. We had several athletes who had some sicknesses. We had a lot of academic stress, and we knew that this was not going to be a physical meet, it would be totally mental. I could not be more proud of these ladies who rallied together and made this a 100 percent team effort to completely create success."
Junior Lauren Beers, who won the all-around competition with a 39.475, said the meet demonstrated the team's increasing ability to stay within its "Bama bubble," or its ability to stay focused on Alabama gymnastics rather than what is happening outside of that focus.
"All of us went in there and tried to stay one routine at a time, focus on ourselves and I think we all did a great job of doing that, especially stepping in when we were needed because people were out," she said. "Each meet we continue to get better at that, just staying in our 'Bama bubble,' and obviously it's working for us."
The meet had a special meaning for junior Carley Sims from Birmingham, Alabama, she said. Growing up an Alabama fan, Sims said she recalled attending meets in her childhood and dreaming of taking the floor with the Crimson Tide one day, a dream she has since accomplished.
"I have lived where they are now," she said of the young fans in attendance at Friday's Youth Night. "For me to be an example, I'm just like, 'Wow, I've really made it. I'm what little girls want to be,' and to me, I'm proud of that, but I want to improve so they can continue to look up and maybe one day, they can take my place and be an Alabama gymnast."