UA men's tennis falls 4-2 to Florida State at home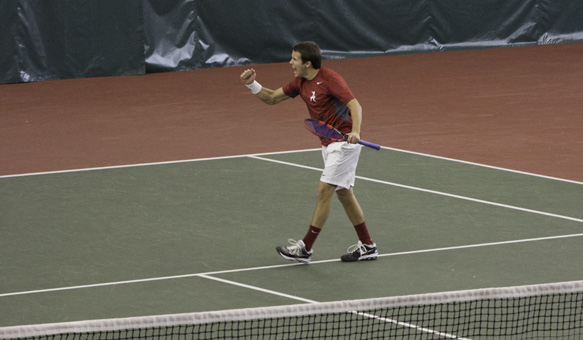 The Roberta Alison Baumgardner Tennis Facility had a full house from start to finish. Momentum started off in the hands of the Crimson Tide as it claimed the doubles point. Coach George Husack said he was happy with how the doubles performed Saturday. He said he saw higher first-serve percentage, higher returns and players moving around a lot while staying aggressive.
During the singles matches, Alabama started to fall behind.
"On the singles end, I think guys are still trying to figure out how to trust all their shots all the time," Husack said. "I think on a couple of courts, we didn't quite stick to our game plan and go after it for the entire duration of the matches. We let up a little bit on a couple courts. I thought fitness kind of played a key as well, and [the Seminoles] were solid down the stretch."
With many ending in three sets, the matches were close until the end. The momentum switched back to Alabama when freshman Danny Kerznerman won his match against Cristian Gonzalez Mendez, 4-6, 6-3, 6-1. However, it was not enough and the Seminoles won the other four of the five finished matches.
"On some courts we had to execute better," Kerznerman said. "I felt like overall it was a really close match. They just played better at the 
bigger moments."
With his own match going to three sets, junior Becker O'Shaughnessey fell to Benjamin Lock, whom he defeated earlier in his doubles match. Like Kerznerman, O'Shaughnessey said the team needs to focus on execution. When it comes to long matches like Saturday's, a high level of intensity is needed from 1-to-6, he said.
"The new system with the no-ad points, [FSU was] just on top of that," O'Shaughnessey said. "When they had big games to either break or hold, they won those big games, and they 
converted on it."