Volleyball hosts Ole Miss Sunday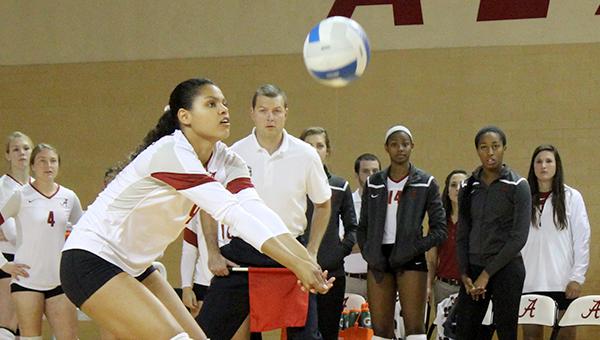 Following last season, the team saw redshirt sophomore Krystal Rivers battle through cancer. While she had Hodgkin's Lymphoma and not breast cancer, the cause behind the Power of Pink, cancer still hits close to home for the team.
"Cancer is such a widespread affliction, it's hard to find someone who hasn't dealt with it in some way or another, whether it be supporting a sick friend or a close relative," team captain Sierra Wilson said. "My teammate, Krystal Rivers, battled with cancer recently and won. So it is gratifying, in a way, to be able to raise awareness for something that is so pervasive. 
It's personal."
Rested after extra off days and no travel for the first time since the beginning of October, the Alabama volleyball team faces Ole Miss Sunday at 3 p.m. in Foster Auditorium, sporting pink jerseys.
Coach Ed Allen said he expects the team to rise to the occasion that is the Power of Pink match, and to compete against the 
talent Ole Miss brings to the table.
"We're supposed to be honoring those people, so we'd like to think our efforts will be indicative of that not only mentally but physically," he said.
With the first league matches under their belts, Allen said the team is certainly progressing and continuing to improve each week, despite the grueling nature of the beginning of league play this season.
"We've kind of hit a road block over the course of last week or so because the difficulty and the amount of travel we've had in league play," he said. "I think they're moving along at what I would consider a reasonable pace and I'm excited to see where they're going to be in six or eight weeks."