Sims helps Tide rise to season-high gains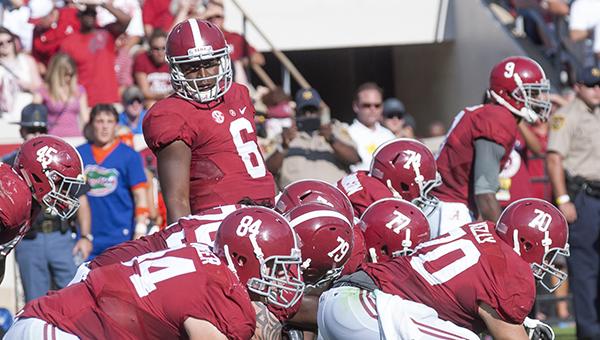 By the end of the first quarter in Saturday's 42-21 win over Florida, Sims had 272 yards passing and two touchdowns, including a 79-yard touchdown pass to Amari Cooper.
He had 335 yards passing and threw three touchdown passes by the end of the first half.
"When you've got great wide receivers that can get open, any quarterback can hit an open guy, and I'm just blessed to have these guys beside me," Sims said.
He finished the game with 445 yards passing and four touchdowns. His performance put him in second for most yards in a single game.
"I just try to take what the defense gives me and just try to trust my guys that they're going to be there," 
Sims said.
But he wasn't perfect.
In the second quarter, he fumbled the ball and when he got to the sideline, Saban had words with him. Sims said it's hard to say how angry Saban was.
"You always see that facial expression all the time, and so you just know that he's angry and all he's trying to do is coach you, and he wants you to be the best that you can be," Sims said.
Sims was picked off in the third quarter, his second pick of the season. Two plays later, the Gators scored. His first pick came against West Virginia in the season opener.
The game was set to be Sims in control as the playmaker. Jake Coker spent most of the game on the sideline until he was needed. With a 28-21 lead late in the third quarter, Coker was needed.
On a 24-yard run, Sims injured his right shoulder. After throwing a few warmup passes on the sideline, he followed trainers into the locker room. He returned in the fourth quarter to applause from fans in Bryant-Denny.
"Alabama's always going to have great fans," Sims said. "And when I ran back out hearing them chant and cheering me on made me want to get out there and perform and be with my team again and go get the W."
Sims is a dual-threat quarterback. He can run the ball and throw it accurately.
"He made a couple nice plays scrambling today, which I think that's going to be a real asset for him, but people have to respect him as a passer now," Saban said. "He has made too many good throws for people not to respect him as a passer. He's done a 
really good job for us."