Tennis team starts fall matches over weekend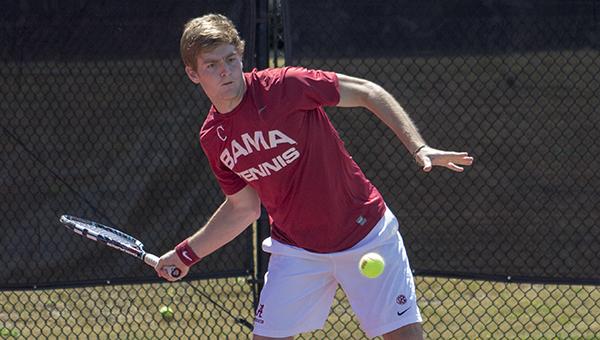 After one hot summer and countless individual tournaments, the Crimson Tide is ready to move forward from last year's season.
"It was heartbreaking, but there's a reason why we didn't make it," Kenyon said. "We have to build on it. We have to learn from it and move forward and not even be in a questionable position by the end of this year."
The team will begin the fall portion of its season this weekend, competing in the Harvard Chowder Fest in Cambridge, Massachusetts, with matches beginning Friday. The group will have had only three complete team practices going into the weekend, but coach George Husack expects to see the results of the athletes' summer tournaments and practices in a team setting.
"The guys have been practicing on their own for the last two weeks, and we've been working with them individually, so I think really it's just to see where they stand," Husack said. "A lot of them have been playing over the summer, and so we get to see what kind of level they're at. It's a starting point."
The team will follow its trip to Cambridge with the Crimson Tide Four-In-The-Fall tournament, held in Tuscaloosa, before traveling to the ITA All-American Championships in Tulsa, Oklahoma, in the beginning of October.
The series of fall tournaments is not only important because it gives the players experience playing different teams than they would normally face, but also because it serves as a precursor to the spring season, Husack said.
"The fall, in my mind, is for teaching and learning, and the spring is show time, where the main event is on," Husack said. "In the fall you have a lot of dress rehearsals, 
in a sense. "
For Kenyon and his team, a simple theme will be the focus of the fall: unity. Camaraderie and team chemistry, he said, are a necessity to a sport that relies so heavily upon mental toughness.
"Tennis is 70 percent mental and 30 percent physical, so if you have that 70 percent, not just your mental side but everyone else – you have their back and you know they have your back – that's really what will push us forward, and that's what all great teams have," Kenyon said.