Kiffin to coach from sideline in season opener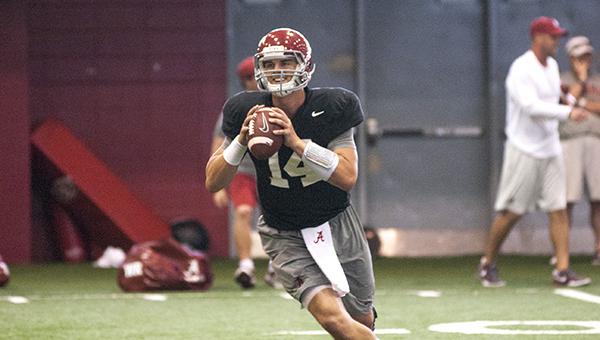 New Alabama offensive coordinator Lane Kiffin will make his coaching debut Saturday on the sideline, where he will coach for the rest of the year.
"Even though he felt more comfortable in the press box, I think that it is important that he is on the field because that is where he has the greatest impact and effect on the ?players," Saban said.
Kiffin was hired in December to replace former offensive coordinator Doug Nussmeier, who left for the same role at Michigan. Kiffin came to Alabama after being fired as the USC head coach early in the season. Kiffin was the head coach at Tennessee for a year before leaving to coach the Trojans. Prior to his stint in Knoxville, he was a celebrated offensive coordinator at USC.
"I have never asked an offensive coordinator to come down to the field, but we are going to do it this year, " Saban said.
Kiffin will be the primary play-caller for the offense, and Saban plans to stay out of ?his way, he said.
"My thing has always been that, as a play-caller, you have to let the guy have the rhythm of what he's trying to do," Saban said. "I had rather make my suggestions between ?series, not while we have ?the ball, and maybe say, 'Look, they're doing a lot of this. We thought they'd do that. Let's make sure we get back to that.' … I know that's putting a lot of trust ?in another person, but that's been the most effective way through the years for me as ?a head coach."
Practice notes
-Dillon Lee worked with the inside linebackers for the third day in a row. Lee is listed as the back-up to Denzell Devall at the "Sam" linebacker spot.
-The offensive line worked in a "jumbo" package weighted to each side for one of the drills. The starting line was the same, with the addition of Leon Brown on the outside of right tackle Austin Shepherd, or Grant Hill to the outside of Cam Robinson on the left side.
-The team practiced inside and in full pads on Wednesday.