Offensive line swaps tackles at practice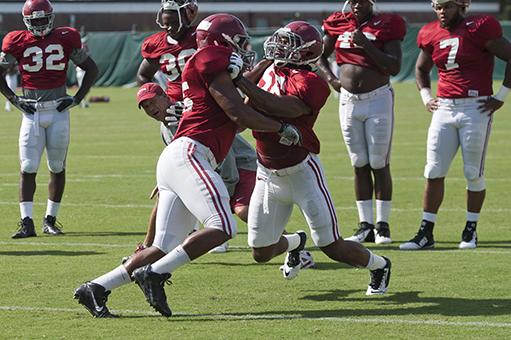 The quarterbacks executed drills in the order listed on the depth chart announced by coach Nick Saban on Monday, which did not name a starter. Freshman David Cornwell worked as a scout quarterback for the offensive line, while Blake Sims, Jake Coker, Alec Morris and Cooper Bateman worked on passing with a pressuring defender, passing to running backs in the back field and passing on the run and across the body.
The first team offensive line practiced as listed on the depth chart, but the second team swapped tackles during run-blocking drills. Dominick Jackson, listed as the backup to Cam Robinson at left tackle, played right tackle with the second unit, while Grant Hill played left tackle.
Brian Vogler and O.J. Howard were the tight ends with the first team offensive line. Tight end Kurt Frietag was missing from practice with an injury.