Embassy Suites designed as luxury downtown hotel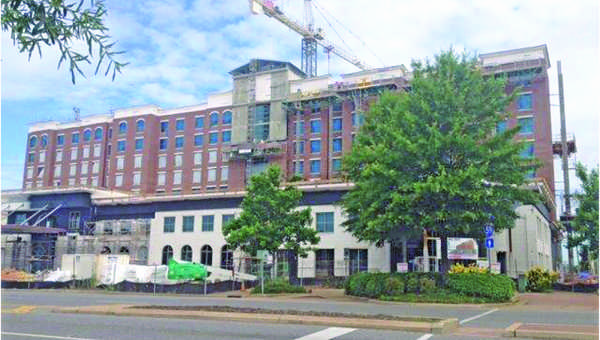 "We're not going to be your run-of the-mill corporate hotel," Chris said. "We're going to have companies here, but when the city recruited us, they wanted a luxury hotel. So we're going to be very upscale."
The hotel will open its doors Jan. 31, 2015. The hotel was scheduled to open this fall, but mandatory archeological surveys pushed back construction by four months, Chris said. Construction is set to finish in late October. The hotel will then be furnished, decorated and cleaned six times before opening.
"The outside is a classic Tuscaloosa building, red brick and limestone and the inside is going to be strictly New York," Chris said. "It's going to be very slick and modern and as nice as any hotel in Manhattan."
The hotel will have 154 suites, which will accommodate up to four people. The ballroom will hold up to 600 people for receptions and around 300 for conferences or meetings.
Chris said the spotlight of the Suites will be the restaurant, operated by chef Chris Hastings who owns Hot & Hot Fish Club in Birmingham. Hastings has won a James Beard Award honoring the top chef in the South and competed on Iron Chef, winning against Bobby Flay. Hastings' Embassy Suites restaurant does not have a name yet, but the facilities will include two private dining rooms and a bar.
Despite the luxurious accommodations, Chris said the most important thing he will be focusing on is quality service. Chris' other hotels have been honored by Trip Advisor and the Intercontinental Hotel Group and he recently received the Conrad Hilton Award, which he calls "the Heisman Trophy of hotel awards."
One particular aspect of service Chris plans to accentuate is catering to international travelers. He said the Mercedes-Benz plant brings a large amount of German business people to the city, but he also sees a lot of French, Australian, Japanese and Chinese travelers.
"There are things that you do for international travelers when they want to feel more at home," he said. "We are going out of our way to make sure we work with them. We are having bilingual employees. You will see amenities in the hotel that appeal to certain nationalities."
While a majority of Tuscaloosa hotels are on or around McFarland Boulevard, the new Embassy Suites is directly downtown on University Boulevard and Greensboro Avenue. Brandt Garrison of the Tuscaloosa Tourism and Sports Commission said the hotel's location will have a large economic impact on the city due to what she calls "the walkability of downtown."
"We're really excited about Embassy coming downtown," Garrison said. "People love to stay in downtown where they can just walk around and not be pulled out of the city. That's what we're most excited about is that people can come to Tuscaloosa, stay downtown, walk to our restaurants and bars and some of the shops and really kind of get a little snapshot of what our town's culture is about."
While Garrison acknowledged the hotel was in part built to serve crowds during football season, she said she also hopes it will expose tourists to Tuscaloosa's flourishing art scene and outdoor recreational opportunities. She also said the city hopes to attract more conferences, which have previously been held in cities like Birmingham and Montgomery.
"We think it's going to help weekends when we're not packed or weekday travel," Garrison said. "We love that they come here for football games, but we think that this is going to attract folks to come here for some of the other things Tuscaloosa has to offer."
Chris said Embassy Suites offering valet parking to all of downtown will help alleviate parking problems and attract more people to local shops and restaurants.
"My hotel, on a nightly basis will be putting 100 to 150 people on University [Boulevard] with money in their pockets to spend," Chris said. "The whole city is going to benefit. If that happens, you're going to begin to see downtown grow much ?more rapidly."