Volleyball team heads to St. Louis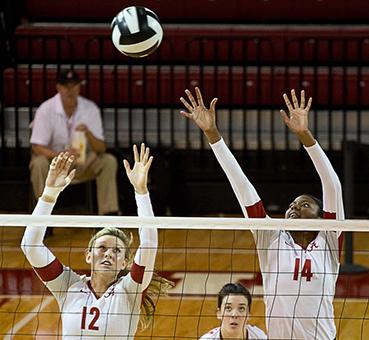 "I'm expecting us to be very hard-hitting. I'm expecting us to make an impact right from the start," junior setter Sierra Wilson said of the opening matches. "I think we have the youth and the energy to really overtake some teams fairly quickly. It would be good if we could capitalize on our offense. We have a lot of tall hitters, and I think we're going to be very solid defensively."
In these early matches, Allen said the team looks to "play hard, play smart and play together." They will also serve as a barometer for some of the new faces present on the team, and display the improvements on defense that the team has made throughout ?the preseason.
"Even though we've returned a significant number of players, we're playing three, maybe four, kids at times that have never been with us," Allen said. "To find out how they will respond in stressful situations is ?the unknown."
Of the returning players, the Crimson Tide boasts three players who earned AVCA honorable mention All-American titles last season, sophomore Brittany Thomas, redshirt sophomore Krystal Rivers and Wilson. Rivers was also selected to the preseason All-SEC team.
Alabama will enter the matches off of a historic 2013 season, when the team recorded 24 wins, tying a school record for the most victories, and its postseason appearance in the NCAA tournament was the first since 2007. The season followed suit of a trend of improvement in the program since Allen took ?the reins.
To maintain momentum, Allen said it is imperative that the team bring their best effort on a regular basis, and play to their best ability every day. Also important are the top-caliber athletes the program continues to draw, who exhibit success both on and off the court.
"If we get better every week, that's going to create a certain level of excitement and momentum, and we hope to continue to ride that momentum over the next couple of years," he said. "We're stacking the roster with kids that are committed to something that's much bigger than themselves, and are exactly the kind of player that the University of Alabama deserves. They're good people, great students and ?terrific athletes."
Wilson also emphasized the notion of participating in athletics at the University and the prestige that comes in tow, as well as the importance of seeing beyond her own career.
"I came here initially to build something special, and that's going to last beyond me," she said. "As long as the new girls coming in and returning players keep that in mind, that's how you keep building, knowing that you're playing for something bigger ?than yourself."