Higher American drinking age affects night life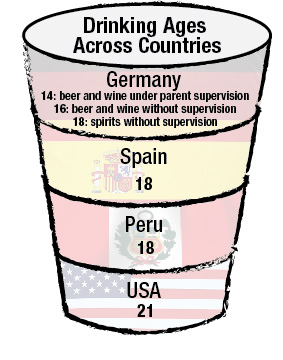 America's higher drinking age can provide an obstacle for international young adults transitioning into American culture.
"In Tuscaloosa I didn't [go] out very often," said Ole Honsel, a 20-year-old from Germany who spent four months in Tuscaloosa working for Mercedes. "It's boring to go out if you can't drink. I was drinking at home with colleagues."
Germany has some of the least restrictive drinking laws in the world. German teens can legally drink beer and wine at 14 years old, when accompanied by parents or legal guardians. At 16, Germans can legally drink beer and wine without supervision, and at 18, they can legally drink spirits.
German nightlife culture differs from American nightlife culture in more ways than just the drinking age, ?Honsel said.
"In Germany, the drinking culture is much better," Honsel said. "At every pub we only have a small selection of beer, but these beers are tasty. In Tuscaloosa, the beers I tasted didn't taste [good]."
Rachel Solino, a senior majoring in Spanish and international studies, spent the spring semester of her sophomore year studying abroad in Barcelona, Spain. She also completed a month-long service learning trip in Cusco, Peru, over her 21st birthday.
Both Spain and Peru have a legal drinking age of 18.
"Their culture [in Spain] is just different," she said. "They stay up later, so they have dinner at about 10 and so they don't go out until about 2 a.m., which I know here, in America, is usually when bars are shutting down, but that's when the night really gets started."
The United States is one of seven countries worldwide with a legal drinking age of 21. Solino said the higher drinking age influences the role of alcohol in America, especially among ?college students.
"It's something that we can't have for so long, we want it more and it will play more of a role in the night life," Solino said. "[Abroad], it's not that important. It's just kind of an accessory to the fun they're having, it's not a means ?to the fun."
The cultural significance of being able to drink legally often extends beyond the act of drinking itself. Many consider their first legal drink to be a rite of passage, or a step into adulthood. When that sense of adulthood suddenly gets taken away, it can be disheartening.
"In America you just feel like a little kid when you can't drink at the age of 20," Honsel said. "It's not the best feeling, trust me."
Even though she spent only a few months being able to drink legally, Solino expressed a ?similar sentiment.
"I had mentally prepared myself that whole four months knowing that it would end, but there were times when it was difficult," Solino said. "It felt like I was more mature there because I did have that kind of freedom, but then I came back and it kind of felt like 'Oh no, you're still too young.'"