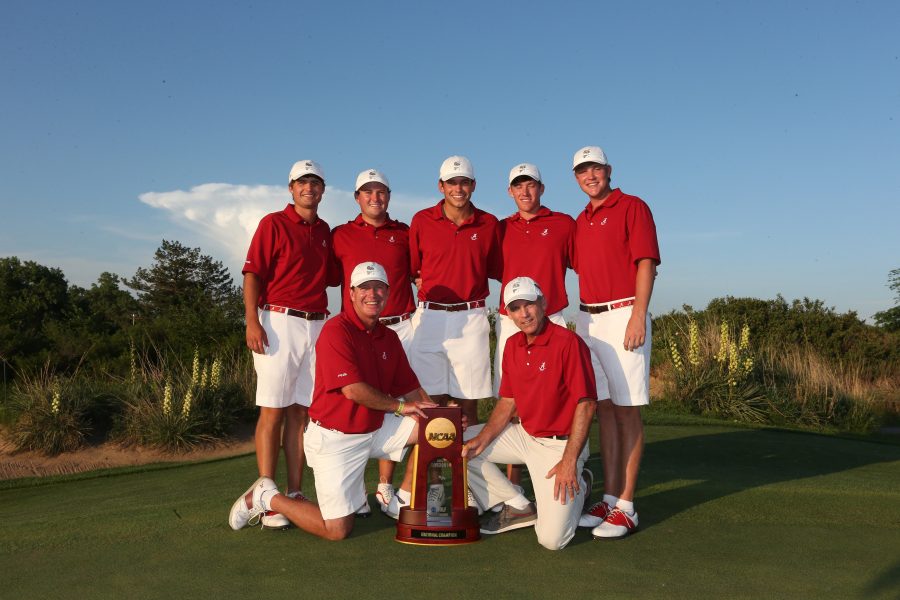 KG
UA Athletics
The history of the Alabama Crimson Tide is rife with back-to-back National Champions. The Alabama football team has accomplished the feat four separate times, dating back to the 1925 and 1926 seasons, and most recently in 2011 and 2012. The Alabama gymnastics team claimed the achievement themselves in 2011 and 2012. Now the Alabama men's golf team can count themselves in that number after winning the 2014 National Championship on Wednesday. The Crimson Tide downed Oklahoma State in match play 4-1 to clinch the second title in it's history, repeating their 2013 triumph. The Alabama golf team became just the second team to repeat since Houston in 1984 and 1985. Alabama's seniors shined as Bobby Wyatt and Cory Whitsett both won their matches over Oklahoma State's Talor Gooch and Jordan Niebrugge, respectively. Freshman Robby Shelton was key for the Crimson Tide, coming from behind to defeat Zachary Olson.
"I never thought I could have as much faith in a freshman as I had in Robby Shelton this week," Whitsett said in a UA Atheltics press release. "He got off to adverse starts for him every match, and not once did I look at it and panic. It was like, well, we're going to win that one. It didn't matter how many he was down. It's amazing." The victory was clinched by a 20-foot putt for eagle on the 17th hole by senior Trey Mullinax, defeating the Cowboys' Ian Davis.
"Hitting that putt on 17 is something that I think you always dream about," Mullinax, of Birmingham, said in a UA Athletics release. "You've got a putt to win the national championship, and to have it go in, and to share that with Coach Seawell, who's mentored me for four years now and has done so much for me in my golf career that I can't tell him thank you enough. He means the world to me, and to have him by my side and my teammates today was just really special."
Alabama's senior class leaves with an impressive record: two national championships, three conference championships, 27 tournament victories and an NCAA record 11 consecutive tournament wins.
"Oklahoma State is a great team," Alabama coach Jay Seawell said. "They played really, really great, but these guys did what they needed to, and I'm very proud of that. I am proud of the legacy they will have at the University and also in college golf."