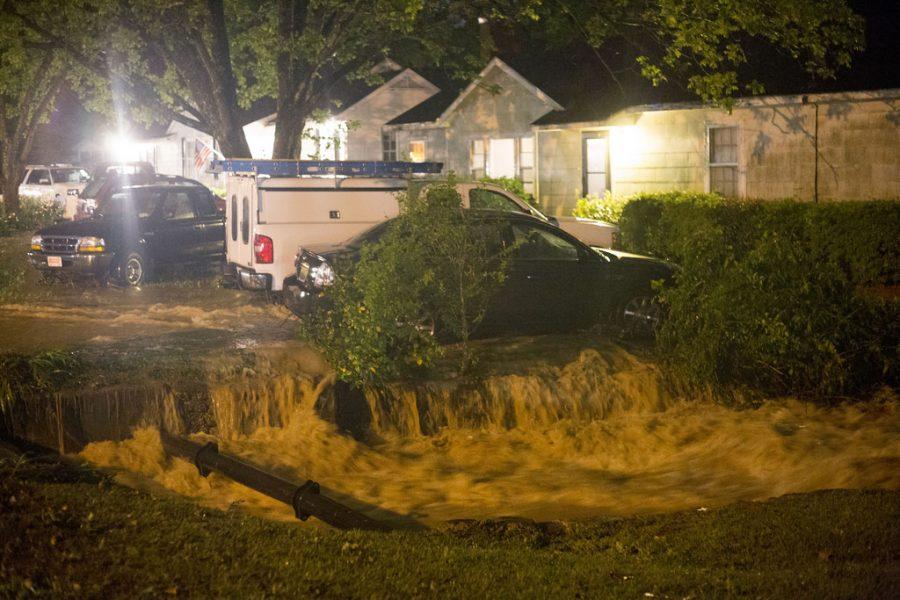 The National Weather Service is predicting more severe weather for central Alabama, including Tuscaloosa County, for late Tuesday afternoon. The relative threat level for tornadoes is high, and the threat levels for damaging winds, hail and flooding are medium, according to the NWS.
Jessica Chace, a meteorologist with the NWS in Birmingham, said Tuscaloosa could start seeing severe weather shortly after 5 p.m. on Tuesday.
"The county can start seeing storms move in close to 5 p.m. and then reach the city shortly thereafter," she said. "So I'd say after 5 p.m. the threat for severe weather greatly increases."
Skies were sunny across much of central Alabama on Tuesday morning and afternoon, but Chace said warm weather could create tornado conditions later in the day.
"With the clear skies, we're definitely going to be able to reach temperatures exceeding the mid-70s," she said. "That, along with the southerly flow bringing in a lot of moisture, it's just going to create a very moist and unstable atmosphere. We also have an upper level jet structure that will be kind of inching its way into the area, so our wind fields in the upper levels will also look to be sufficient to produce those damaging straight line winds and tornadoes. So the clear skies definitely aren't helping."
Tuscaloosa County has also been under a flash flood warning since Monday. Areas north of Interstate 20/59 received as much as two inches of rain during Monday's storm. Urban, low-lying areas with poor drainage in Tuscaloosa could be at risk for more flooding, Chace said.
"Those areas received upwards of two inches of rain yesterday, so an additional two to three inches in the heavier supercells today could create some flash flooding," she said.
Tuesday morning, a University of Alabama spokesperson confirmed the death of student John Servati, 21. Servati was a junior on the UA swim and dive team. He was killed when a retention wall in the basement where he was seeking refuge collapsed.
(See also "Alabama swimmer remembered for 'giving spirit'")
Monday night produced an estimated 11 tornado tracks across the state. One tornado passed south of the city of Tuscaloosa and did not impact the University of Alabama campus.
Governor Robert Bentley declared a state of emergency Monday night at 7 p.m. after severe weather and tornadoes struck northern Alabama. The NWS is performing surveys of possible tornado tracks on Tuesday and Wednesday, so the full extent of the damage in Alabama is unknown at this time.
Exams scheduled for Monday night, Tuesday afternoon and Tuesday night were postponed until Friday and Saturday. For the updated exam schedule see below:
Exams originally scheduled for Monday, 7 p.m. will be made up on Friday at 3:30 p.m.
Exams originally scheduled for Tuesday, 3:30 p.m. will be made up on Saturday at 8 a.m.
Exams originally scheduled for Tuesday, 7 p.m. will be made up on Friday at 7 p.m.
In a Tuesday press conference, Tuscaloosa Mayor Walter Maddox said Monday's severe weather was erratic in nature.
"I would have thought at 9:30 last night we were in a very good situation, and it looked like we had escaped any damage," Maddox said. "By 10:30, all hell had broken loose."
(See also "VIDEO: Mayor Maddox Press Conference – 04/29/14")
Maddox said monitoring weather conditions will be important as people prepare for Tuesday's storms.
"We're all a little nervous right now about the weather that's coming in… but I can predict to you two things: Number one is that people in this community will rise up to that challenge, and number two is that this city will be ready for it," Maddox said.
The Crimson White will update this story to keep readers informed about changing weather conditions