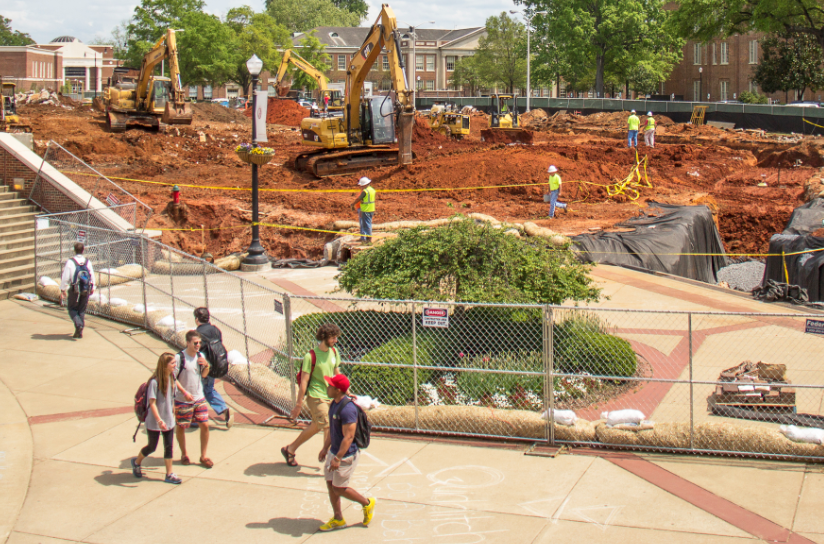 The North Engineering Research Center, ten Hoor renovation and a new digital media center at the north end zone of Bryant-Denny Stadium are among the construction projects currently slated to be complete in August, Tim Leopard, assistant vice president for construction, said.
"When students return in August, they will see some major changes that will be exciting," Leopard said. "Especially with the completion of the science and engineering complex. I think that will help students; it will make travel better. It will make their daily lives better."
At any given time, Leopard said UA construction tracks about 100 different projects, but there are several major projects in progress.
"In construction is the Presidential Phase II and the student center at Presidential Village," he said. "Both of those are just in progress and will not open until August 2014. The Presidential Phase II is an 860-bed residential facility. The student center will feature a recreation center, office for housing and residential communities, and a dedicated storm shelter."
The area near the Ferguson Center and the Crimson Promenade is also currently under construction. Leopard said this construction is part of a 75,000-square-foot addition to the Ferguson Center, which will include additional space for the SUPeStore, Career Center and new offices, but will not open until 2014.
Chase Sanders, a senior majoring in music administration, said he feels construction is necessary to grow the campus and better serve students.
"Although it can be noisy and inconvenient at times, the construction is just a part of the continual growth of UA," he said. "As a senior, I know that the changes will not directly affect me; however, the construction is going to create a better campus for future students."
Leopard said Alpha Phi, Alpha Chi Omega and Gamma Phi Beta sorority as well as Pi Kappa Phi and Theta Kai fraternity houses are also in progress, though they are not slated to open until summer 2014. There will also be a renovation and addition to the Chi Omega sorority house.
Madison Butz, a sophomore majoring in psychology, said she understands the University's motives for construction, but feels it detracts from the campus aesthetics.
"If there is constant construction going on, it prevents us from enjoying the beautiful campus we already have," she said. "It seems like there's been constant construction for the two years I've been here, and I'm just waiting for it to be over so we don't have messy, dirty and loud areas that I'm embarrassed to bring visitors to. It's inconvenient, annoying and tiring."
Nicholas Caluda, a sophomore majoring in English and resident in the Riverside community, said he wishes the Presidential Village construction could have waited to start in the summer.
"What good is the construction in front of the Ferguson Center doing, though?" he said. "Why couldn't the Riverside construction have started during the summer instead of incapacitating students for an entire semester? Really, the construction raises more questions than anything else. There just seems to be so much of it and not a whole lot seems to be getting done."