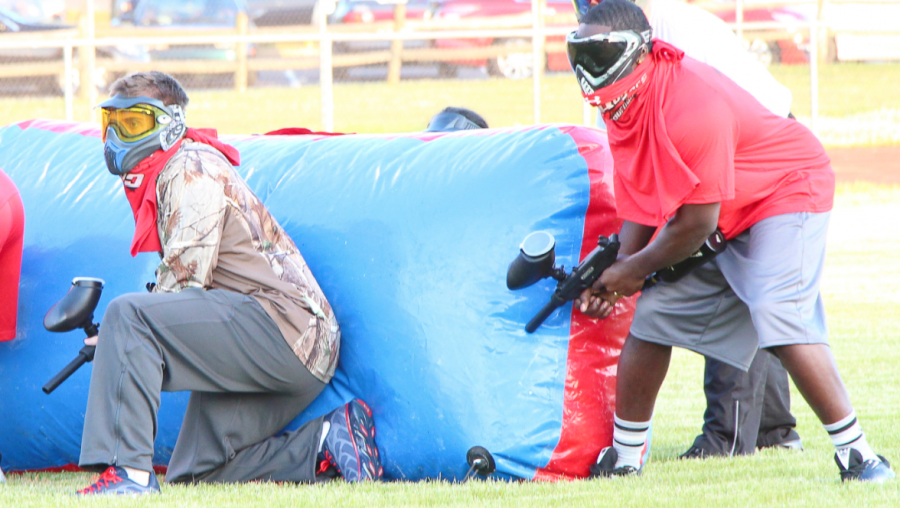 A Friday practice with the Buffalo Bills and a delayed flight did not stop former Crimson Tide defensive end Marcell Dareus from returning to Tuscaloosa on Saturday to play in the second annual Chris Rogers charity paintball tournament. Dareus was awarded the honor of tournament MVP because of dedication.
"The reason he was MVP is because he came so late but still did everything he wanted to do," Chris Rogers, organizer of the event, said. "It meant a lot and was a special situation."
Dareus was joined at Central High School after A-Day by Heisman Trophy winner Mark Ingram and many other former Crimson Tide greats, including Trent Richardson, Mark Barron and Julio Jones. The players signed autographs and hung out with their former teammates before hitting the field to play some paintball.
Chris Rogers, a member of the 2009 national championship team, started this tournament last year to raise money for breast cancer awareness. Roger's mother, Mary Rogers, beat the disease five years ago.
Mark Barron, a former Crimson Tide safety, said he met Rogers during his freshman year when Rogers was a senior.
"Chris taught me that it's not all about football," Barron said. "There are other things to life and giving back to the community."
Ingram also said he became good friends with Rogers during their time playing together for the Tide.
"Chris has been a great friend to me and a great teammate ever since I stepped foot on campus," Ingram said. "He's been someone I can turn to for advice, lean to for encouragement. He's always positive and wants to do positive things."
Ingram said the most important advice Rogers ever gave him was to give back.
"He's positive, motivating and very encouraging," he said.
Ingram said he was also excited to play a little paintball with some of his former teammates and friends.
"Instead of just interacting with the people, I'm excited about getting out there playing some paintball, shooting some people up. That's a little fun," Ingram said.
Rogers started a nonprofit organization called Together Assisting People (TAP) three years ago that helps underprivileged and at-risk youth in the Tuscaloosa area. Saturday's event was run and hosted by Rogers and the TAP staff.
The Gameheads took home first place for the second year running at the tournament. The MVP's were Dareus and former Tide wide-receiver Brandon Gibson. The paintball course was set up and run by The University of Alabama club paintball team and Splatzone.
"I think from the standpoint of the overall event, I can only use the word amazing," Rogers said. "It was amazing how personable the guys were, and that they were able to interact with the kids."
Rogers said they doubled the amount of funds raised last year.