Crimson Tide football team visits White House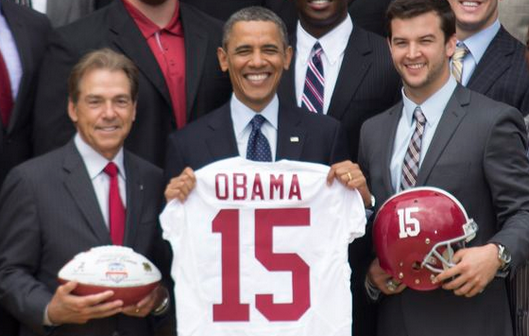 "Sweet Home Alabama" played on the White House front lawn Monday afternoon as President Barack Obama finished congratulating the Crimson Tide football team on its third national championship in four years.
In the short, six-minute ceremony on the South Lawn of the White House, Obama congratulated the team on its accomplishments during the 2012 season, including the 2012 national championship, which marks the 15th for the Crimson Tide.
"Roll Tide. It's a great pleasure to welcome the Alabama Crimson Tide to the White House – again," Obama said. "They are starting to learn their way around the White House. I was thinking about just having some cots for them here, they're here so often, except we couldn't find any big enough."
Prior to the ceremony, University of Alabama President Judy Bonner led the Crimson Tide football team down the staircases toward the South Lawn of the White House as a jazz ensemble played "Yea, Alabama."
More than 200 fans, Alabama representatives, including Tuscaloosa Mayor Walt Maddox listened to Obama as he congratulated the team for winning its 15th national championship, and their third in four years.
President Barack Obama and Nick Saban walked side by side for the fourth time and joined the team before Obama began his remarks.
After the initial congratulatory remarks, the president extended sympathy to the family of Mal Moore, former athletic director, coach and player at the University who died in March due to pulmonary complications.
The president made comments praising the excellent record of the senior class, 49-5. Additionally, he commented on the perseverance Barrett Jones has shown over the past four years, citing playing in the BCS National Championship game despite torn ligaments, and ending his career at Alabama as "one of the most decorated players in Alabama football history."
Jones wasn't the only player singled out to receive compliments from Obama. He also commended A.J. McCarron for his leadership thus far and said McCarron "showed the kind of poise very few 22-year-olds possess."
Obama said he anticipates next season for McCarron's final year because he heard "the SEC defenses haven't suffered enough. He's going to subject them to a little more pain."
"Getting a [shoutout] from president Obama in his speech was definitely one of the coolest moments I've ever been apart of," McCarron later tweeted.
Keeping with tradition, coach Saban and the team presented Obama with a No. 15 jersey, crimson helmet and team ball.
"Now you have a full uniform. You're an official member of the team," Saban said, joking that they would have a meeting later to discuss playing time.
"I think we should keep me on the bench," Obama said.
Several players were unable to attend the ceremony due to pre-NFL Draft and academic commitments. Obama recognized those who were not in attendance.
"This title belongs to everyone who helped these young men get to where they are today – family and friends, high school coaches and loved ones, trainers, staff, grocers, these guys eat a lot," Obama said as the crowd filled with laughter. "It belongs to every student who came to every game and all the fans who yelled, 'Roll Tide!' at kickoff and cheered on the Million Dollar Band."
The ceremony closed with a jazz rendition of "Sweet Home Alabama" as Obama shook hands and took photos with players, guests and fans.
"Since I'll be around for four more football seasons, I expect I might see these guys again before I leave," Obama said.