Crimson Tide weight room gets $9 million makeover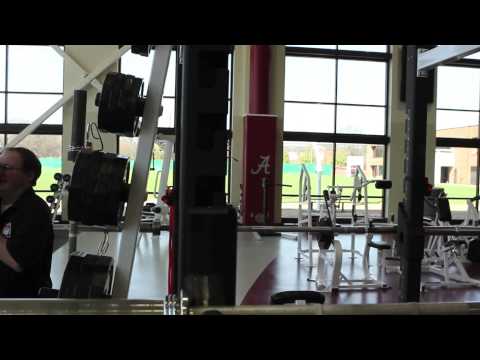 University of Alabama strength and conditioning coach Scott Cochran led reporters on a tour of Alabama's new $9 million, 37,000 square foot weight room Wednesday. The new facility features state-of-the-art equipment, including 20 combination racks with platforms built into the ground for a safer workout environment, a nutrition center and Cochran's favorite part, the sound system.
"That was the number one thing I asked for," an enthusiastic Cochran said. "I'm big on the jock rock! Love that. 'Cause you never know the day. 'The day.' Everybody knows the day. 'Man, I just don't feel like it.' Those are the days I crank that music so loud they can't hear anything. Can't even hear me."
The weight room looks out on both the Thomas-Drew Practice Fields and the Hank Crisp Indoor Facility. It's open to all athletes, but will primarily be used for the football team.
"It's jaw dropping," Cochran said. "But I think if you see – not only is this stuff brand new and nice – it's no different than ever before. It's hard work that we're going to put in. So things don't change, is what I'm getting at."
The tour started on the ground floor, which is 21,000 square feet on its own. It contains the combination racks, a dumbbell station that is set to arrive Thursday, the nutrition center and television monitors that show players proper lifting form. It also houses the controls for the blaring sound system.
"I could care less. I don't understand any of it anyway. I get crunk either way," Cochran said of the music selection. "Every day I walk in the door right there. It doesn't matter. You're humbled by this. It's like, why do I deserve this. Why do I – why do the players – why do any of us deserve this."
Players can go to the nutrition bar for smoothies and other healthy snacks. There's also a sign on the wall that reads, "Sweat is just your fat crying."
"You're not going to find anything like this. They have everything. You can have whatever you like," said Cochran, who paused to do his best impression of rapper T.I. "And obviously [nutritionist] Amy Bragg takes care of us back here. But you're going to have everything you want to help them get ready for a day and to finish a day strong."
The cardio room is upstairs, along with medicine balls and a doctor's office.
The facility will also be a big selling point to recruits who visit campus. And for the players who are already in Tuscaloosa, there was a moment to take everything in before it was back to work.
"Everyone's jaw dropped," Cochran said. "It was simple. You could either give them a whole bunch of rules and tell them a bunch of, 'this is what's different.' I decided, blow the whistle, let's go to work. We're not gonna change anything just because it's beautiful."
Cochran said he had a lot of say into what went into the weight room – the sound system was an especially strong request of his. But ultimately, final decisions went to one person.
"This was the boss, baby. I just say 'Yes sir,'" Cochran said. "Come on, I ain't no fool now. Coach Saban said, 'This is how we want to do it?' Yes sir. 'So do you want to-' Yes sir. Come on, I ain't questioning that man. That's crazy."
Leading in today's Crimson White:
Crimson Tide looking to reverse 3-game skid against LSU
Six track & field athletes set to travel to South Bend