Alabama prepares for Auburn doubleheader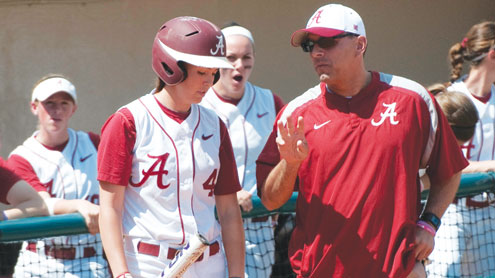 The No. 1 Alabama softball team continues Southeastern Conference play today as it looks to win its 16th and 17th-straight games against Auburn today. Alabama leads the series 38-13, with a 14-7 record at Auburn.
The Tigers just completed a series with Kentucky, avoiding the sweep with a 2-1 win Sunday. Auburn now has a 24-9 overall record and a 3-5 record in the SEC.
This will be the second year Alabama has had back-to-back, midweek SEC doubleheaders, something head coach Patrick Murphy said he had planned on happening again. In the last 17 days, Alabama has put together a 13-1 record, a streak Murphy hopes to continue despite a lack of rest.
"Spring break week was rough travel wise," Murphy said. "I think everybody's still shaking off the jetlag from Portland, [Ore.], including me. So, it's a grind for sure. Hopefully, they'll come through like they did in Oregon."
The Crimson Tide got its first look at the Tigers when it traveled to Auburn and competed in the SEC/ACC/Big XII Challenge. Murphy said this year's Auburn team could be the most difficult of any Auburn team he has faced.
"When we saw them earlier, I thought this was [Auburn head coach Tina Deese's] best team," Murphy said. "She's got three senior pitchers. They're very good. They're very different, two lefties and a righty. Their offense was hitting bombs. They've got a lot of pop this year. We're going to have her best team. I know we'll have to play like heck."
Auburn's bullpen is also a threat to quiet the Tide's bats. The Tigers' pitchers are averaging a 1.39 ERA and have given up 63 home runs, while the Tide's have an ERA of 1.85 and have given up 71 home runs.
Still, Murphy said he was confident in Alabama's pitching staff. Amanda Locke and Leslie Jury both pitched in Sunday's game against Longwood. Murphy said their performance in the game helped the Tide, which was having trouble getting an offensive spark. He also expects to see both of them pitch Tuesday, saying the combination of the two has benefited the Tide in other games this season.
"I think they're a little bit different speed wise, but I think it's a good combination," Murphy said. "They're both going to have to pitch and keep us in games."
Senior Jennifer Fenton said the team understood this matchup was special, but said it would not change its game plan for the in-state rival.
"Everyone knows Alabama-Auburn is a big rivalry," Fenton said. "We're just going to go in there and play at our level, play our game and we're going to take it to them. We're going to do what we do. It doesn't matter who we play, we're going to play Alabama softball."