Musicians talk about the ever-growing network of bands in Tuscaloosa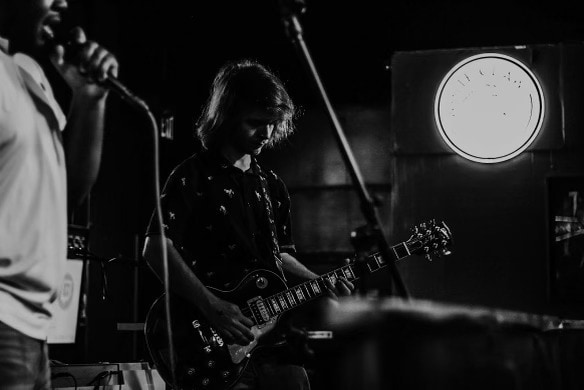 (Editor's Note 4/21/23: This article was updated to clarify that Katie Prewitt is a member of No Strings Attached, not Pranxter.) 
The Wheelers, Five Card Draw, Amberwave, Patti Cake and Pranxter  are only a few of the bands who reside in Tuscaloosa, many of them having started at The University of Alabama itself. 
Many musicians speak of Tuscaloosa as an overwhelmingly positive environment in which to explore their music and network. It's easy to overlook this college town, especially when comparing it to music hubs such as Nashville, Tennessee, but incredibly talented individuals and bands can be found everywhere from stages at local bars to fraternity houses and campus events. 
Holden Keith, a sophomore majoring in finance and the guitarist for the band Five Card Draw said that although he hopes to live in Nashville after he graduates, the non-competitive environment in Tuscaloosa is something he will miss.  
"Nashville is very individually competitive, because everyone is competing for the same stage and the same future. You go to whatever day job you do, and you find out that your coworker also plays the guitar, and the dude washing the dishes plays the guitar, and the CEO of your company also plays the guitar," Keith said. "That doesn't exist here. Nobody is fighting for the same spot, and so it builds a positive atmosphere." 
Musicians have shared that Tuscaloosa's non-competitive environment allows musicians to select their niche sound and master it. Of the numerous bands, each of them has claimed its own unique name and sound, forming deep-rooted friendships and supportive fanbases along the way. 
Keith and the other members of the band — bass player Dylan Meyer, a senior majoring in electrical engineering; singer Katie Prewitt, a senior pre-med biology major; and drummer Murphy Smith, a young Tuscaloosa native — are not the original members. In fact, part of the reason why their band is so special is because when a member graduates, the band works hard to find someone to fill their spot. There have been over 23 members of the ever-evolving Five Card Draw in the eight years it has been on campus.  
In fact, their former singer, Gabi Piercy, a 2022 chemical engineering alum, was also a member of the acapella group No Strings Attached, which unites a lot of musicians on campus. The group also was a home to Quinn Hirschland, a sophomore majoring in international relations, who is the lead singer of Pranxter, another local band with UA roots. Prewitt is also a member of No Strings Attached, which is how she was introduced to Five Card Draw. 
"Bands tend to gravitate towards No Strings Attached, because it's a definite place that you can go and know you're going to get a talented singer," Keith said.  
The bands Pranxter, Amberwave and Five Card Draw are close friends, and as Prewitt said, they are very "interrelated" with other bands in Tuscaloosa.  
Keith said Five Card Draw has built strong friendships with the musicians here, and interacts with nearly all the bands in Tuscaloosa.  
Many musicians in the community also shared that they met their groups through flyers hanging around the Moody Music Hall on campus. Smith, the young drummer from Five Card Draw, discovered the band after his music teacher passed him one of their flyers. Hirschland, the lead singer of Pranxter, found his band through this same method.  
The center of this web of musicians, however, seems to be a GroupMe of over 200 old and new musicians on campus. Pranxter's drummer, Adam Josephson, a freshman majoring in manufacturing engineering, said that he found the members of the band through GroupMe.  
Keith said there was a time when one of his members couldn't make it to a show and used the GroupMe to find backup.  
"When I post a message on the GroupMe saying I need a backup bass player, I will have nine bass players text me," Keith said. 
This GroupMe thread is constantly being flooded with requests for equipment, venue trades and older members checking up on their former campus. However, while this is typically what connects musicians, their individual friendships and drive to help one another is what really benefits them in their musical career.  
Another Tuscaloosa band, Wheelers, relied heavily on a man named Curtis Moss to record their first EP, "Run for Shelter." They travelled to Franklin, Tennessee, to record their music in under 24 hours.  
Amberwave is also a band who has released one single, entitled "From Me," on Spotify and the band will be releasing an EP on April 21. Because of their mutual connection to Moss, they used the same recording studio, and have become friends with the Wheelers.  
Amberwave consists of five members: bass player William Jefferson, a senior majoring in computer science; singer Arman Sheffield, a senior majoring in political science; drummer Ben Davis, a junior majoring in physics; lead guitarist Trevor Hegenbarth, a senior majoring in marketing; and rhythm guitarist Braxton Bobbitt, a senior majoring in marketing.  
Sheffield is also a member of No Strings Attached and knows Hirschland from Pranxter and Prewitt from Five Card Draw through the group.  
Amberwave grew in popularity after they competed in the University's Battle of the Bands scholarship fundraiser on Sept. 22, 2022, where they competed against Five Card Draw and Wheelers.  
"It's a really cool way to get all of the bands playing together and hear each other play," Sheffield said. "Because normally we are playing at separate bars on the same weekends. I would say this really helped us get to know the Tuscaloosa music community." 
Amberwave, which plays both covers and original songs, said that this environment has encouraged them to explore their passion.  
"I think some people have this concept that with any field it's competitive in a way that there's not a piece of piece for everyone, but it's the opposite here," Jefferson said. "There's an opportunity to do whatever you want to do how you want to do it. It's so much fun."  
In fact, it's such a fun environment that some bands in the community remain after graduation. Members of the band Patti Cake have remained in Tuscaloosa and can be found playing at venues like Rhythm and Loosa Brews.  
The band consists of five members: Mike Ellis, a bass player who graduated with a finance degree; Patrick Dutton, a drummer who graduated with a music composition degree; Hadden Langley, a singer who graduated with a business analytics degree; Avery Mellen, a guitarist who graduated with a marketing degree; and the only current student, Ethan Moore, a senior majoring in biology and guitarist.  
Moore, although a member of Patti Cake, has released music of his own under the name, "Earth Over Men." Even within his own band, Moore is encouraged to develop his own music, and the band was overwhelmingly enthusiastic to share his originals.  
Overall, what makes the Tuscaloosa web of musicians special is the deep-rooted relationship between artists and the support that goes into helping everyone fulfill their dreams. For many musicians in town, the environment is truly like no other. 
In the next couple of years, this campus may just get to proudly say they housed a famous band. The next time you're out on a Friday or Saturday night, be sure to see who is playing, and don't hesitate to follow any of these amazing musicians. They all have something new in store.