Fouts, Johnson helps softball to Wednesday win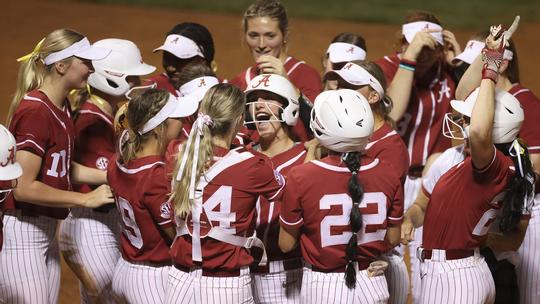 The softball diamond in Rhoads Stadium glowed in the final light of the Wednesday afternoon. By 6 p.m., stadium lights had replaced the sun as the Crimson Tide began its seventh home game in a row. Already 7-2 at home this season, Alabama was able to add another win by the end of the night.  
The Crimson Tide (12-3) beat the University of Southern Mississippi Golden Eagles (12-2) Wednesday afternoon 5-0.
In the middle of a 13-game homestand, head coach Patrick Murphy said the victory was a great way to keep the momentum going.  
"Tonight was a good start," Murphy said. "But we need to play well for the five games this weekend and get on a roll. That's the big thing, just to get on a roll."  
It took the first three innings for Alabama to get on a roll Wednesday night.  
Junior and University of North Alabama transfer Emma Broadfoot attempted to start the third inning off with a hard-hit ball back to the pitcher, but Southern Mississippi pitcher Morgan Leinstock secured the first out with a quick throw to first. Freshman Larissa Preuitt also hit up the middle, but it got past Leinstock, and after a successful stolen base, Alabama had its first runner in scoring position.  
An out later, graduate student Ashley Prange sent a ball to right center, sending Preuitt home and putting one on the board for the Crimson Tide.  
Alabama, though, couldn't put anymore up until the next inning. With first and second bases filled, senior Jenna Johnson's hard-hit line drive soared over the left field fence — her first homerun of the season.  
"It felt great. It was a weight off my shoulders," Johnson said. "It's been a minute since I've had a good hit so to break it open with that one was a really good feeling." 
The scoreboard read 4-0 going into the fifth inning and only one hit was tallied under the Golden Eagles' hit column. Pitcher Montana Fouts silenced the Southern Mississippi bats inning after inning with seven strikeouts in four innings and added one more in the fifth, shutting down the Golden Eagles once again. 
In the bottom of the inning, Prange's stolen base and junior Bailey Dowling's double combined to put another run on the board. After a dominant sixth inning that brought her total strikeouts to 10, Fouts was replaced by redshirt sophomore Alex Salter. 
"We really wanted Salty [Salter] to come in and get an inning and she did great with two K's [strikeouts] to end it," Murphy said. "We need her this year. We need her to get her confidence back and I think tonight was a step in the right direction." 
Together, Fouts and Salter held the Golden Eagles to just two hits — the team's lowest hit total of the season. The Crimson Tide finished the game with six hits, all from different players.  
Alabama will continue its 13-game homestand this weekend at the Crimson Classic, starting Friday, March 3, at 4 p.m. CT against Robert Morris University. 
Murphy said he's looking forward for his team to prove themselves in Rhoads this weekend.  
"We can't stub our toe anymore at home. We need to take advantage of the best crowd in college softball," Murphy said. "We know the environment, we know the field, we get to sleep in our own beds, we're not traveling. We need to take advantage of it."