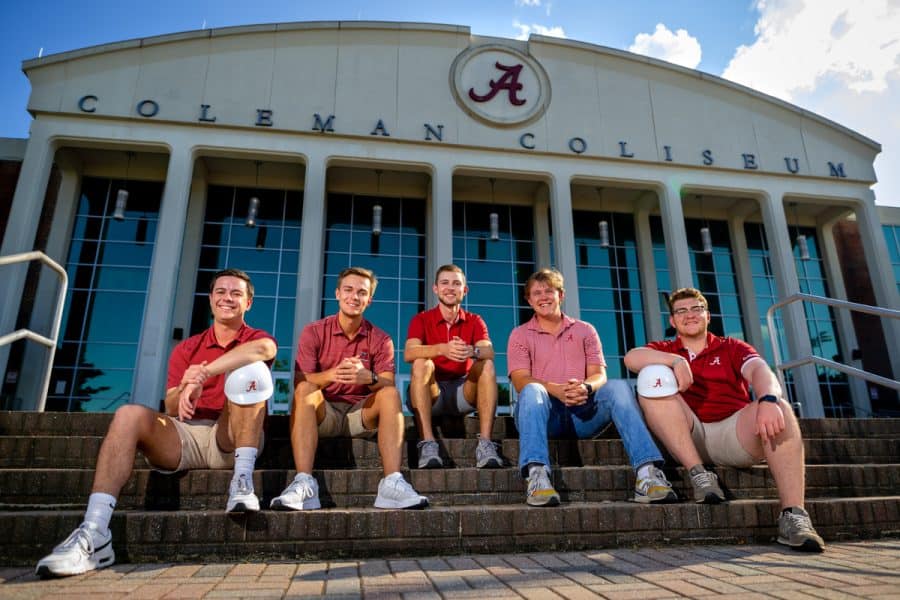 CW / David Gray
Crimson Chaos is undergoing a renaissance this year. The official student section for Alabama Athletics is expanding to more sports across campus. More student leadership opportunities are opening within the organization. Coaches are reaching out to form closer partnerships with Crimson Chaos.   
But to understand this renaissance, looking back at the past few years is important, according to Crimson Chaos president Ethan Lamb, a senior majoring in history and political science. 
Luke Ratliff — better known as "Fluff" or "Fluffopotamus" to Crimson Tide fans — was president of Crimson Chaos for most of Lamb's time at the Capstone.  
"It was very much his thing," Lamb said. "He was the president, and it was his friends, and they really knew Alabama basketball before it took off under coach [Nate] Oats to the level of success we're at right now."  
Throughout the 2020 athletic season, there was limited fan capacity. Ratliff and those most passionate about Crimson Tide basketball made it to every game — home and away — throughout the season. But the fan capacity limitations meant that most of Crimson Chaos' members could not make it out to games, and the organization saw limited student engagement.  
Then Ratliff, the unquestioned heart and soul of Crimson Chaos, passed away in April 2021 due to COVID-19 complications. Alabama fans everywhere mourned this loss, and it left Crimson Chaos reeling.  
"We had a year off of engagement and then the figurehead is gone, so where do we go now?" Lamb said.  
Alabama's athletic department stepped in last year to help the organization get back on its feet. The athletic department shaped Crimson Chaos into more of a "formal club" for students, complete with an executive board and student officer positions to be voted on every year.  
Blake Bullock, a good friend of Ratliff, was elected president of the organization.  
"It was natural for him to kind of take that leadership role and then get new people like myself on board to kind of help kickstart this thing again," Lamb said.  
Lamb was vice president under Bullock last year, and Jacob Pickle, Crimson Chaos' current vice president, was treasurer.  
Under last year's leadership — both on the student side and the athletic department and marketing staff side — Crimson Chaos began to expand. 
Crimson Chaos membership benefits have historically included a free t-shirt sponsored by Baumhower's Victory Grille and early entrance to Coleman Coliseum for basketball games — guaranteeing good seats and free food giveaways since members will be the first students into the game.   
"It's always been just a very basketball-specific organization," Lamb said. "But other teams saw what we were doing and saw how we've kind of exploded into this formidable presence at basketball games where we [even] have an issue of student seating at games now because it cuts off at a certain point."  
Lamb and Pickle said coaches began to reach out to them over the summer as they entered their leadership roles. Softball, gymnastics, soccer and volleyball have been particularly interested in getting Crimson Chaos more involved with their seasons.  
"It's been really cool," Pickle said. "Coach [Wes] Hart invited us out to the lake if we wanted to go. He was like, 'Whatever I've gotta do to keep motivating you guys to do this.' Which, like, we didn't need all that motivation. We just needed the connection to work with. But it's been really neat, and we're excited to continue to expand on that."  
Pickle said the Crimson Chaos executive board has contacts with the gymnastics team and women's basketball that they are also looking to expand on. They've been regularly meeting with Hart regarding soccer and Rashinda Reed on her vision to rebuild the volleyball program.  
"Coach Reed has been one of my favorite [coaches] to work with so far," Lamb said. "She's very upfront that year one, the results probably won't come because we were so in the gutter last year, and we are trying to completely do a culture change."  
However, Lamb and Pickle said that Reed and her coaching staff have been vocal in their weekly meetings with Crimson Chaos leadership that they see the organization as a piece of the puzzle in a successful program rebuild.  
Lamb said this mindset goes back to Ratliff's mindset while at the helm of Crimson Chaos.  
"He talked a lot about how football is different," Lamb said. "It's very much like gladiators in the arena. They're wearing all this equipment and you can't see their emotions. You can't tap into the emotions on the field because they're not as visible."  
Lamb and Pickle believe that in sports such as basketball, soccer, volleyball and more, Crimson Chaos has a direct impact on results.  
"We can create an environment that other teams hate to play in, and that actually affects their performance on the court," Lamb said.  
Hart and Reed share this idea with Lamb and Pickle. Both coaches, outside of their meetings with Crimson Chaos leadership, have been vocal on social media thanking Crimson Chaos and the crowds brought alongside them to games.  
Hart's program is now the highest-ranked it's been in history, and after facing No. 18 Clemson early in the season, he tweeted a thank-you to the crowd. Reed also tweeted, thanking the crowd as she began her tenure with the Crimson Tide earlier in the fall.  
Many of the games with packed student sections involve the promise of free food for the first students to arrive, or the ability to compete for gift cards throughout breaks in the games.  
A lot of work goes into packing out student sections and providing free food or gift cards through sponsorship opportunities. It's difficult for the Crimson Chaos executive board to plan how to allocate money to sports. They want to leave plenty for Crimson Tide basketball, but when teams take off in a season, like soccer has this year, it calls for extra resources to continue to bring fans out to games.  
Luckily, the Alabama Athletics brand is so well-known that, paired with staff backing Crimson Chaos in their sponsorship requests, they often don't have to ask more than once or twice to get an organization on board.  
Bob Baumhower, owner of Aloha Hospitality and former Crimson Tide and Miami Dolphins nose tackle, said he decided to get involved as a sponsor years ago to support both Alabama Athletics and student organizations.  
"I don't think you can do enough to foster relationships with young people," Baumhower said. "I love what sports has done for me and what it's done for my children, and I don't think you can stress enough how great it is to have the students supporting sports programs at Alabama."  
Pickle said these packed student sections are invaluable to athletes. 
"I think the ability for players, whenever you look up into your stadium, seeing your fans and your peers cheering you on is just such a motivating thing," Pickle said. "Being able to come out of COVID restrictions and have full crowds and full student sections is so influential. And it means so much to the players. It really means that Alabama is an 'everything school.'"  
Opposing players and coaches also understand the importance of Crimson Chaos and acknowledge its influence. Auburn basketball coach Bruce Pearl and opposing players for LSU's basketball team have spoken with Lamb and Pickle after games to acknowledge as much.  
Lamb and Pickle are excited by the growth seen so far in 2022, but they are still looking to grow the organization and its impact.  
"We're not just a football school," Pickle said. "We have so many other sports that are so exciting to be around and students can get much more involved with. We want packed attendance everywhere — as many places as we can be. Those weekends at the end of February, early March with gymnastics, baseball, softball and men's and women's basketball having home games — let's make that a great weekend and pack those games out."  
Lamb echoed Pickle's sentiment.  
"We want to foster community engagement," Lamb said. "If you're a big sports fan like we are, we want this to be a hub where you can go and you can make friends. You can meet new people and get in with a crowd who also likes the things you do. And that's how college memories and experiences are made."  
The fee to join Crimson Chaos is $10, and with it, students get a free t-shirt, early entrance to games and many opportunities for free food. Lamb and Pickle said the organization is actively working to spread across campus to more sports, and to grow its student membership numbers. The organization can be found on The Source.  
As for the next big Crimson Chaos weekend, Lamb and his executive board have their sights set on Sept. 24.  
"Sept. 24 we play Vanderbilt in football. That game is at night," Lamb said. "We play Auburn in volleyball early that day. That game is at 1 p.m. CT. We're planning for free food as a tailgate substitute. It's also going to be a white-out, and Auburn is playing. Even if you're not a student, if you have a football ticket, you'll get into that game for free. That's been confirmed, so that's one we really want to pack out."  
Sports fans: be on notice. A Crimson Chaos renaissance is underway, and Alabama students will be heard cheering for every one of their teams.
Questions or comments? Email Austin Hannon (Sports Editor) at [email protected]